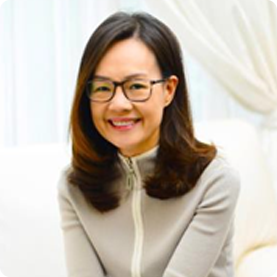 Ms Rachel Ong
Vice-Chairperson & Sustainability Champion of West Coast Town Council
Rachel hopes that every resident at West Coast Town will be given the opportunity to join the AGT Team for at least one initiative leading to 2025.
A fun fact about Rachel is that she is able to consume a large quantity of ice cream in one sitting! Who's up to challenge her?
We dare you!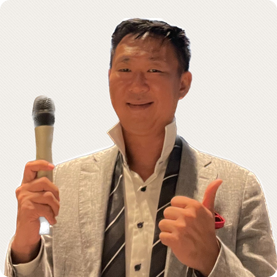 Mr Kelvin Lee
Executive Director
Kelvin realizes that the world is at a turning point ecologically after watching many documentaries by David Attenborough. He has a choice to either be a passive spectator or contributor to the rapidly deteriorating planet, or to take a positive step and influence others to collectively reduce their ecological footprint. As part of the AGT/PEC team, Kelvin hopes that residents of West Coast Town will understand the importance of living sustainably with a low ecological footprint.
Kelvin values community cohesion and, in his spare time, mediates conflicts between individuals. This includes neighbors, family members, domestic workers, and their employers. He is an accredited volunteer mediator with the Community Mediation Centre (CMC) and the Foreign Domestic Worker Association for Social Support & Training (FAST).
A fun fact about Kelvin is that he is very particular about the coffee he drinks. He believes that every day provides only two opportunities to enjoy caffeine and prefers to prepare his own cappuccino. He has a three-minute ritual or process that he has been perfecting since he bought his espresso machine during the early days of the pandemic.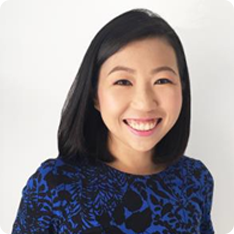 Ms Joelle Chen
Sustainability Professional in Real Estate
Joelle has been a greenie since the young age of 11. She started by inculcating simple good habits like recycling, bringing her own tingkat (food container) whenever she needs to tabao (takeaway food) and doing clothes swap or heading to the flea market to shop rather than buying new. Joelle joined the AGT Team in hopes to inspire others to rethink consumption through sharing her own personal journey. Joelle strongly feels that BYOB/BYOC (Bring Your Own Bag/Bottle/Container) should be a way of life and she hopes to get at least 100 residents to commit the "BYOB/BYOC" pledge every year. Another wish Joelle has is to see food waste being recycled at all our hawker centres!
Love spicy food? So does Joelle. She loves it so much that she has made a name for herself for it. Joelle won a keg of beer and was crowned as Chili-head at her workplace after having won an ultimate spice challenge. This is one challenge I am NOT up for.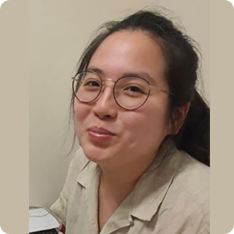 Ms Sarah Shum
Professional Jack of All Trades
Sarah is incredibly passionate about sustainability and jumped at the opportunity of joining the AGT Team as she found that it was the perfect opportunity to incite positive change beyond the confines of her own home. By the end of the AGT journey, Sarah hopes to see everyone have more empathy for the community and environment, and make more sustainable choices. Sarah wants to make a difference in how people view food and food waste and help everyone achieve zero food waste, so don't disappoint her!
Sarah's love for grocery shopping is immeasurable. Should Disneyland be closed, taking Sarah to the supermarket would be your best shot.
Mr Matt Hanbury
Mechanical Engineering Manager
Matt sees value in the recyclable trash we often throw out every day. He believes by changing our social habits, coupled with emerging technology, we can explore new ways to reuse these materials we so often deem as trash. Joining the AGT Team, he hopes to massively boost recycling in our Town and has a big goal of preventing 100 Tonnes of recyclable waste from being incinerated in the coming year.
Not only is Matt big on recycling, he is big on electric guitars too. However, due to him spending most of his time trying to save
our environment, he doesn't have time to play his 4 electric guitars as often as he wants to.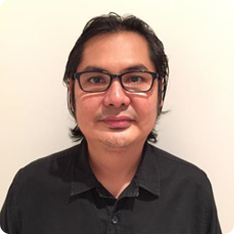 Mr Eddy Wee
Business Development
Eddy is a man full of ideas. He is excited to work with like-minded people in the AGT Team to contribute to a better environment and create a beautiful estate for the people. Eddy hopes to see more residents in West Coast Town come together to work towards a sustainable future through creating a clean and green environment. Fun fact about Eddy is that he can eat 10 Roti Pratas in one sitting. Not sure if he can do the same with ice cream.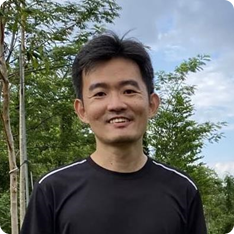 Mr Tan Wee Thong
Engineer
As an avid runner, Wee Thong constantly explores new outdoor places and immerses himself in greenery during his runs. He joined the AGT Team in hopes of contributing to our community by giving ideas to conserve and create more green spaces. By the end of 2025, Wee Thong hopes to see more trees planted across West Coast Town and more green spaces for all to enjoy. Hit Wee Thong up if you are up for a run in a sea of green!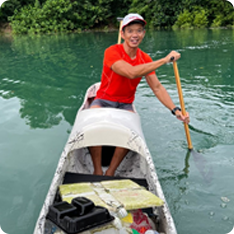 Mr Dao Jia
Daojia has been drawn to the sea since his first paddle on a kayak off Changi Beach with his father a long time ago. Living in Telok Blangah is perfect for him as he can visit the seaside or go paddling around the Southern Islands of Singapore almost every day. He is also the President of the Singapore Paddle Club. Through AGT/PEC, he hopes to give others the opportunity to safely explore the Southern Islands and their surrounding waters on a paddle craft, develop a lifelong connection with the marine environment, and a desire to protect it.   Do get in touch with him via the AGT/PEC if you are keen to get closer to our Southern Islands and the marine environment on a paddle craft!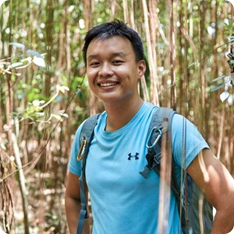 Mr Darren Quek
Forest School Practitioner
Darren hopes to impart his knowledge on the indigenous Orang Lauts and the ways of the forest school to all residents of West Coast Town. He wants to inspire a change in the way people consume in the world. As part of the AGT/PEC team, he aspires to build a connection with nature and the grassroots. Fun fact: Darren finds decluttering and organizing his house therapeutic!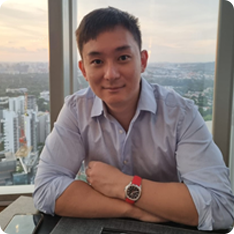 Mr Daryl Pek
Civil Servant
Daryl joined the AGT/PEC team to support friends and fellow AGT/PEC members who are passionate about sustainability. He hopes that residents in West Coast Town will understand more about food waste and break the stigma around the safety of upcycled products.   Fun Fact: Daryl is certified both in operating a forklift and representing clients in court as a lawyer.